Renowned band Blink-182 has been forced to postpone the start of their highly anticipated European tour all due to an unforeseen family emergency involving their drummer Travis Barker. The sudden turn of events unfolded as Travis Barker hastily returned to the United States leaving fans puzzled and concerned. The primary reason for this unexpected departure is linked to Kourtney Kardashian's ongoing pregnancy journey.
A tweet from the band provided a glimpse into the situation revealing "Due to an urgent family matter Travis had to return home to the States." While specific details about the nature of the emergency were not disclosed the Glasgow Belfast and Dublin shows were swiftly rescheduled in light of the situation. Fans and ticket-holders have been advised to await further information regarding Barker's return to Europe and the subsequent rearrangement of tour dates.
Barker's recent Instagram Story added an intriguing layer to the situation. Just hours before his departure he shared images from the Glasgow Airport prayer room along with a banner that read "Together we pray." Furthermore, a photograph of a stained glass window in a church setting hinted at the solemnity of the moment.
The unexpected turn of events comes amidst Kourtney Kardashian's ongoing pregnancy. The reality star known for her appearances on the "Kardashians" show has chosen to maintain a low profile on social media following a Poosh blog post shared earlier. Kardashian aged 44 and Travis Barker aged 47 tied the knot in May 2022 and subsequently announced their forthcoming parenthood journey in June.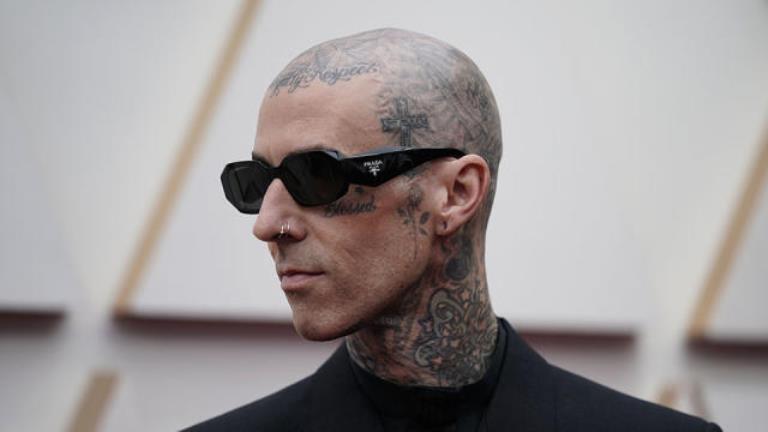 The news of the Blink-182 tour postponement has left fans inquisitive and concerned. The couple's representatives have refrained from immediate comments regarding the situation. Kardashian a mother of three from her previous marriage is now expecting her first child with Travis Barker adding to the significance of the moment.
Barker's family dynamic further contributes to the complexity of the situation. He shares two children Landon and Alabama with his ex-wife Shanna Moakler. Throughout the summer Travis Barker and Kardashian have been sharing the journey of her pregnancy through heartwarming Instagram posts offering their followers a glimpse into their excitement and anticipation.
Interestingly Kardashian and Barker's journey towards parenthood took an unexpected turn. While initially considering in vitro fertilization they made the decision to embrace the prospect of conceiving naturally. In a candid moment on their family show, Kardashian expressed her belief in destiny stating "We would love a baby more than anything but I just really believe in what God has in store for us. If that's a baby then I believe that it will happen."
As fans await further updates on Travis Barker's return to Europe and the rescheduled tour dates the unexpected family emergency serves as a reminder of the unpredictable nature of life. While the tour's delay may disappoint fans the well-being of Travis Barker and his growing family takes precedence during this moment of uncertainty.